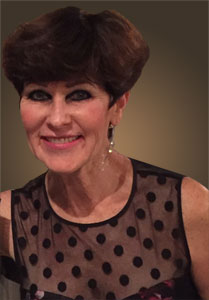 Teresa S. Colleran Electrolysis PA opened for business in Massachusetts in 1978. Teresa, (known as Terri), steadily built up a very successful electrolysis business in various Boston-area cities by employing other electrologists to help the business grow. In 1994, after sixteen years of practicing electrolysis, Terri and her family relocated to Naples, Florida. Terri has been a practicing electrologist for over forty years. Her business philosophy is 'Results are my Best Recommendation'!
Due to electrolysis being the only method of permanent hair removal approved by the FDA, coupled with over forty-plus years of experience, Terri has 100% results-satisfaction.
One of the most important steps an electrologist can take in their career development is becoming board certified. Terri has her certified clinical electrologist (CCE) and certified medical electrologist (CME) credentials, which signify that her knowledge has been tested and measured against the highest level national standards. Mandatory continuing education in a biennium and five-year period is required to maintain these credentials. The Florida Department of Health, through its Division of Medical Quality (MQA), is the agency that regulates all electrologists' licensure requirements.
By going above and beyond initial training, board certification ensures Terri's patients of her serious commitment to enhance her knowledge in the field of permanent hair removal. This also includes laser hair removal.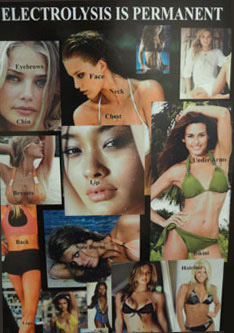 Terri obtained her laser hair removal license in 2000. For two years, she worked under the direct supervision of a medical director, which is mandated by Florida law. The main purpose of her doing laser was to accommodate her patients. By combining both methods in a complementary fashion, she was able to remove hair quickly and efficiently.
Not everyone is a candidate for laser, however. Laser is popular for removing hair on larger body areas, such as the back, chest, and bikini line. Most often, between four and six treatments are needed. After that, the patient is advised to remove the remaining fine hairs with electrolysis to achieve permanency. As a result, more and more people end up needing electrolysis to complete the hair removal process. Terri found herself busier than ever removing hair from individuals who may not have considered electrolysis, had they not started with laser! In the end, it was this influx of electrolysis clientele that led Terri to decide to concentrate solely on electrolysis and put laser on hold.
Terri's background in electrolysis started as early as her own personal experience with hair removal with PERMANENT RESULTS to this day. Having received an adequate number of treatments, she has enjoyed complete hair removal in these areas for over three decades. This is how she is able to understand what's involved in having electrolysis from the patient's point of view. She knows how to advise her patients whether to choose electrolysis, laser, or both modalities combined. She is knowledgeable in the approximate number of hours that are required to remove hair in a particular part of the body.
Since Electrolysis is an investment of both time and money, having an experienced, knowledgeable, and personable Electrologist take care of you is well-worth looking into. Expertise and competency in this profession are what differentiate one Electrologist from another.
Terri's credentials:
Registered Electrologist in Massachusetts
Licensed Electrologist in Florida
Certified Clinical Electrologist (CCE)
Certified Medical Electrologist (CME)
Member of the Electrolysis Society of Florida (ESF)
Member of the Society For Clinical and Medical Hair Removal (SCMHR)